As brands adapt to survive in a COVID-19 world, Gen Z are redefining what it means for a brand to be authentic and accountable this holiday season and beyond—and they're not afraid to call BS when it's being faked. They'll look to spend their sacred dollars on brands that give a damn about what's going on around us, all to create lasting change.
Getting to know this massive squad of teens and young adults is essential; Gen Z's 2020 buying power is $34 billion, and 52% of 19- to 37-year-old parents say their kids directly influence the products they buy (source).
The Quarantined Consumers: Optimism over obstacles.
Gen Z embodies global empathy, taking local action to create positive change, all from home.
We all know this year has been anything but comfortable. And Gen Z agrees: 75% say the coronavirus outbreak has had a significant impact on their worldview, and 68% say the same about the Black Lives Matter movement. However, only 25% feel the pandemic impacts their ability to live a good life (source).
Now, this doesn't mean they're naive to what's going on. Growing up in challenging economic times has yielded a continuous chase for security and stability—they have no choice but to learn what it means to be self-motivated and flexible, and to hustle hard. And while they're spending less money online due to job losses in retail and service roles, 75% believe that the pandemic will ultimately shape and form new jobs (source). In the meantime, they choose to work with the resources they have, adjust with change, and take action as needed.
Gen Z are living with their glass half full and will hustle harder to fill it up.
Though Gen Z are not so sure about the US's future, they remain optimistic about their personal lives despite the obstacles they've faced in 2020 (source). By taking charge of their own path, Gen Z have the power to create real change for others, too: 62% agree they have the potential to impact the world (source)—and they know the key to making an impact is starting small within their communities and supporting local small businesses (source).
Shifting their shopping.
Gen Z don't shop in a binary fashion; they shop across all formats and experience brands every step of the way, from mobile and digital to traditional retail (source). Unwittingly, they've always been digital-ready.
Now during COVID-19, digital commerce pairs convenience with safety to guide a historic path to purchase. In 2020, e-commerce grew more in eight weeks (April–June) than in the entire decade before, jumping from 16% to 27% of retail in the US (source). This is due to the fact that 50% of Gen Z and Millennials are shopping online more, with 34% saying this will continue beyond COVID-19 (source).
Careful with cash.
Lockdowns during COVID-19 have Gen Z taking the pragmatic route. They have an average of $115 in monthly spending money (source), and with COVID-19 in the picture, large-ticket items continue to mean less and less as Gen Z re-prioritizes what's necessary.
And this isn't limited to packaged goods. Because 49% of Gen Z have already experienced an impact on their household income (source), they're looking at how they can stretch their dollars, being more practical with their purchases and only spending up to 15% on non-essentials (source). Moving forward, 59% believe they'll be more financially conservative (source).
To build long-lasting relationships with Gen Z—now and after the pandemic—brands should consider changing their ways.
Solidify brand values to align with Gen Z.
Be transparent in your mission, purpose, and impact by demonstrating how spending on your brand supports the bigger picture (locally, regionally, and globally).
Execute unified messaging across your digital channels, from .com to email to social media (organic / paid).
Focus on opportunities, not obstacles.
Don't downplay the realities of 2020. Instead, be cognizant and reflect Gen Z's beliefs by expressing positivity and reinforcing that you're the brand to help them spread holiday cheer.
Map customer journeys to the shifts in Gen Z purchasing behavior.
While some brick-and-mortar will resurface in the new year as stay-at-home orders lift, the pandemic will permanently shift much of Gen Z's shopping behavior going forward. Think digital first when mapping customer journeys in future brand campaigns. But don't completely rule out brick-and-mortar, as Gen Z does look forward to reconnecting with people through in-person brand experiences.
Be cost-conscious.
Lower the barrier to entry by empathizing with their financial limitations. Build a marketing plan that prioritizes affordable gifts that lessen the burden of holiday buying.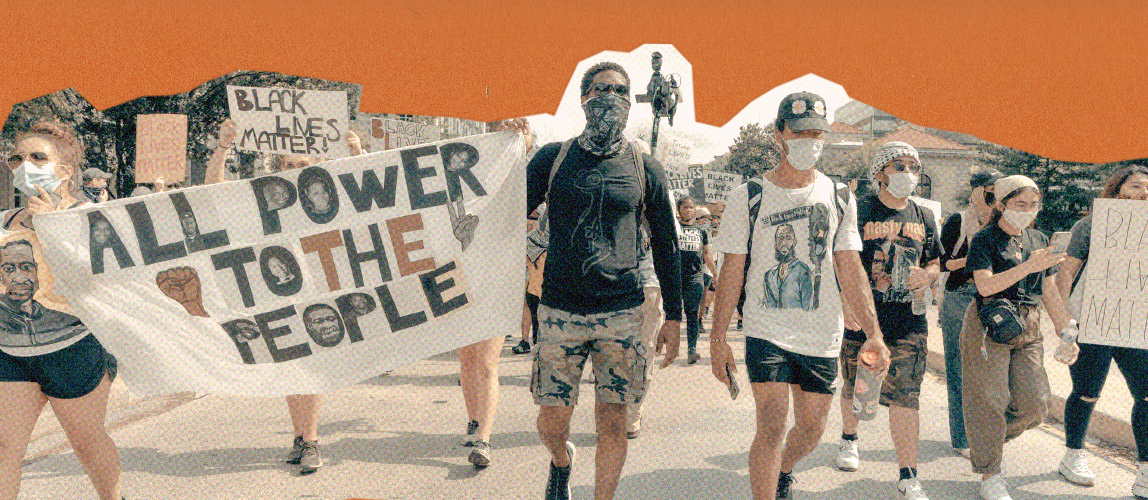 Holiday shopping in a COVID world.
Starting their holiday shopping fashionably late.
The spike in job losses and reduction of household incomes makes this season extremely challenging. Pair this with end-of-semester obligations for those in school, and you can see why Gen Z would procrastinate with their holiday shopping. Black Friday may have lured some of Gen Z to start holiday shopping early, but more than a third of Gen Z said they'll begin their shopping afterward (source). Just over 15% admitted that they'll wait until after December 15 (source), which is no surprise, considering the uncertainty of how COVID-19 will progress into 2021.
Neither the pandemic nor the recession has stopped them from social activism.
Though they may seem like they are procrastinating their holiday shopping, they are being purposeful with their dollars. While pushing major companies to take ownership and action in order to create a better future, they're much more likely to buy holiday gifts from local, Black-owned, and/or minority-owned businesses and will continue to support them once the pandemic ends (source).
Cautious consumerism.
Embrace the reality of 2020 and beyond. Show how your values shine during trying times to foster community and opportunity. Participate in Gen Z's desire for a better world by making inroads between your brand and sustainability or social good, emphasizing authenticity as a human more than a consumer.
Show, don't tell (it's all about holistic messaging).
During the holiday season and into the new year, Gen Z is looking to purchase from brands that give a damn. They're young, but they're pros when it comes to calling BS on companies trying to market to their generation inauthentically. Tweeting about trending moments and being "woke" on Instagram is all fluff to them if your company isn't doing the work.
They expect authenticity from brands—be real, be human, and actually give a damn about what's happening in the world.
Extended digital.
Since COVID-19 is disrupting the traditional holiday retail experience, engage with Gen Z on their preferred digital channels. Meet them with unified messaging that creates opportunities to reinforce your brand values, build lasting relationships, and remind them of your burden-free gifting solutions.
Interactive content.
Example: Create polls and/or Q&As that help identify which products / services your community prefers and highlight them in future custom content. Consider a special offer or a giveaway.
Custom content.
Example: Unpack the thinking and process behind your products / services, expressing what makes them such unique gifts this holiday season.
Virtual experiences.
Example: Generate a virtual retail experience by introducing customer reviews, influencer partnerships, and stripped-down digital speaking engagements. Channels to consider: Instagram, Instagram Stories / Guides / Reels, YouTube, and TikTok.
Convenience is key.
Add ease to each step of the consumer journey. Not every brand can operate like Amazon, but there are certainly creative ways to remove friction within your organization.
Consider Portland's Never Coffee, for example. They took swift action during COVID, developing six bottled products as well as a curbside pickup program to simplify the consumer experience.
Better days ahead.
As we enter 2021 and precautionary measures begin to lift, we'll be watching how Gen Z navigates a post-COVID world. They'll be looking for a change—spending quality time with friends (in person!) and taking a much-needed break from connecting over screens. But they'll continue to vote with their wallet, shopping small and demanding that major businesses support social causes that can create a better future for everyone. Which is something we can all get behind.
Here's to a better tomorrow. Stay safe, Happy Holidays, and Happy New Year.
###
Sources:
https://www.ypulse.com/article/2020/01/09/millennials-gen-z-teens-combined-spending-power-is-nearly-3-trillion-in-2020/
https://morningconsult.com/form/gen-z-worldview-tracker/
https://enginegroup.com/us/news/stay-curious/life-interrupted-cassandra-special-edition/
https://morningconsult.com/form/gen-z-worldview-tracker/
https://www.forbes.com/sites/markcperna/2020/06/23/why-is-gen-z-feeling-so-good-about-life-after-covid-19/?sh=42ee271b6853
https://www.mckinsey.com/industries/consumer-packaged-goods/our-insights/meet-generation-z-shaping-the-future-of-shopping#
https://www.bcg.com/en-us/publications/2020/how-marketers-can-win-with-gen-z-millennials-post-covid
https://www.cnbc.com/2020/04/19/how-gen-z-and-millennials-plan-to-spend-after-coronavirus-crisis.html
https://www.financialexpress.com/money/how-covid-19-is-changing-gen-z-millennials-spending-and-financial-habits/2024609/
https://thefinancialbrand.com/98178/generation-z-money-banking-trend-spending-covid-19-coronavirus-pandemic-lockdown/
https://www.data-axle.com/resources/thought-leadership/
https://go.morningconsult.com/rs/850-TAA-511/images/200825MLB-2020GenZ-Report.pdf
https://thefinancialbrand.com/98178/generation-z-money-banking-trend-spending-covid-19-coronavirus-pandemic-lockdown/